Phuc Ha Juice Company Limited (Hai Ninh Commune, Bac Binh District, Binh Thuan Province) - is one of the enterprises specializing in the production and processing of many products from the dragon fruit of Binh Thuan province.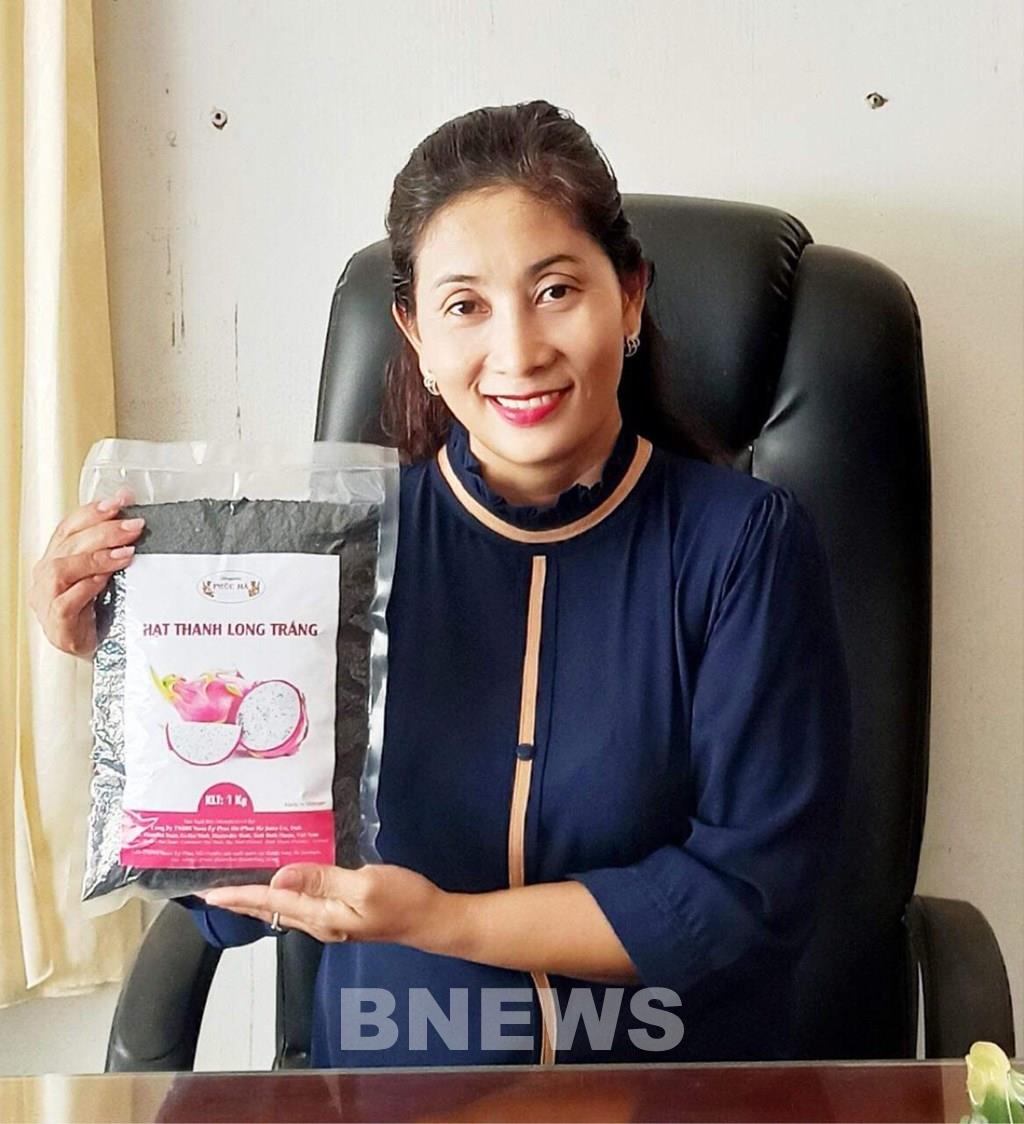 Ms. Le Thi Nguyen Ha - Director of Phuc Ha Juice Co., Ltd. with the new product Thanh Long Seeds.

Phuc Ha Juice Company Limited (Hai Ninh commune, Bac Binh district, Binh Thuan province) - one of the enterprises specializing in the production and processing of many products from dragon fruit of Binh Thuan province said after the success of the fermented dragon fruit juice product, which was enthusiastically received by the market and consumers. The Phuc Ha Juice Company has continued to research and invest in machinery and technological lines to separate dragon fruit seeds to meet the more advanced needs of the market.
Ms. Le Thi Nguyen Ha, Director of Phuc Ha Company said, with the export price of 150-250 USD/kg of dragon fruit seeds (which have gone through many stages of processing with strict processes and standards), this product is expected to increase in value and economic efficiency many times higher than traditional products from dragon fruit such as dried dragon fruit, dragon fruit wine, or dragon fruit confectionery...
Currently, a number of customers from Korea are promoting cooperation to purchase dragon fruit seeds for serving industries such as cosmetics, pharmaceuticals, and dietary food production.
Although this is a very new product and seems strange to the majority of Vietnamese people. However, many research works and scientific trials in some advanced countries in the world have proved the nutritional and multi-micronutrient value of this product.
Therefore, the product price is relatively high and is among the highest in the value chain of dragon fruit products today.
Mr. Trac Anh, Chairman of Binh Thuan Union of Dragon Fruit Cooperatives said, dragon fruit has only really developed into a commodity product and has important significance to people's life in Binh Thuan province from 1980-1990 onwards. With the efforts and investment of many businesses in the area; in which, Phuc Ha company contribution has turned dragon fruit into a source of materials to enrich this land.
Phuc Ha's products have been brought to trade promotion in many localities, at many domestic and international fairs and exhibitions and are very interested and well received by customers.
After many years of quality reform and design changes, Phuc Ha company has built its own brand of products.
In order to gain a foothold in the market, Phuc Ha company has committed to environmentally friendly manufacturing processes and creating many jobs for local workers.
Phuc Ha company has also been fully Certificate of establishment of eligibility for food safety and HACCP Certification.
At the same time, Phuc Ha company has received many awards such as: "Prestige, quality, and safe products for consumers' health"; "Prestigious agricultural products - the highest quality of agricultural products"; "Typical rural industrial products at regional level in 2020"; and has just been certified product of the Binh Thuan province and products 4-star OCOP awarded.
Placing great trust and expectation in the export prospect of a new product that is white and red dragon fruit seeds. Ms. Ha hopes when the first dragon fruit seeds products are exported, it will open a new direction and bring many practical values not only to businesses but also to the majority of export enterprises in Binh Thuan province, especially in the context of the COVID-19 pandemic which caused the market to shrink.
Ngoc Quynh (BNEWS /TTXVN)