Morning March 23, 2021 at the Viet-Xo Friendship Cultural Palace, Hanoi, the Ministry of Agriculture and Rural Development (MARD) held a National Conference to summarize the program "One commune, one product" (OCOP), period 2018 - 2020.
At this conference, the OCOP program was identified as an important content and task in promoting rural economy, associated with new rural construction.
In particular, in the past time, despite being affected by the Covid-19 epidemic, OCOP products are still very well supplied to the market with growth in revenue and selling price. This is a testament to the potential and effectiveness of the OCOP program.
Minister of Agriculture and Rural Development Nguyen Xuan Cuong presents the Certificate of Merit from the Prime Minister to representatives of leaders of provinces and cities who have made achievements in implementing the One Commune One Product Program in the 2018-2020 period.
At the conference, Deputy Prime Minister Trinh Dinh Dung asked ministries, sectors and localities to actively support economic sectors participating in the OCOP Program, especially cooperatives and businesses. Continue to improve mechanisms and policies to support capital, land, science-technology, etc. to create conditions for subjects to develop OCOP products...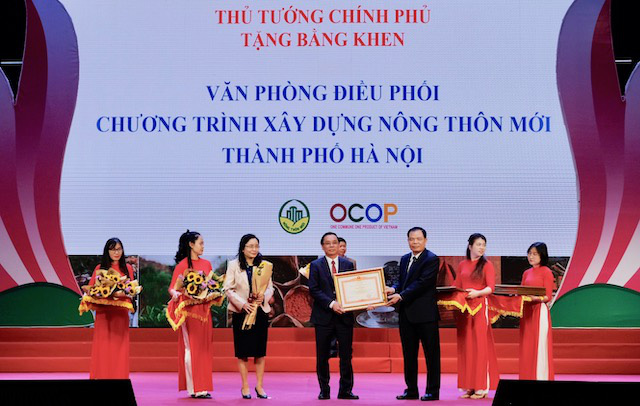 The Deputy Prime Minister proposed to focus on investing in developing 6 identified product groups, in which, products with advantages and local characteristics are associated with cultural and human factors in each region, each region and each ethnic group to serve the development of the tourism economy.
During the implementation process, the Deputy Prime Minister noted that it is not allowed to follow the movement, even if there is a situation of "fluttering" in the process of evaluating and recognizing OCOP products, it will affect the standards of OCOP products. to the branding of other OCOP products.
Phuc Ha Juice Co., Ltd. participated in the exhibition at the OCOP program summary conference in the Central region
(Source: Dan Viet)
Phuc Ha Juice Company Limited
Fermented Red Dragon Fruit Juice PROSPEROUS
Address: Hai Ninh Commune, Bac Binh District, Binh Thuan Province
Phone: +84 916491537 (Ms. Ha)